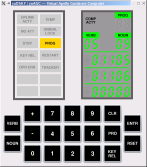 As a follow up to our post
Build Your Own Apollo Guidance Computer
we thought that there may be a few of you that don't have time to go hunt down the components needed.
Enter the
Virtual Apollo Guidance Computer
.
You will need to have middle to advanced computer skills to use this but full instructions are provided on how to download/install for Win32, Linux & Mac OSX 10.4 are provided. The software is licenced as "free software" under the GNU
General Public License
(GPL).
If you have the "right stuff" why not help this great project out.